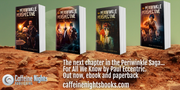 Dolls House - Creepy horror from Ashley Lister
Following the death of his best friend, author Ben Haversham is crippled by a terminal case of writer's block. The isolation of his agent's remote cottage, nestled in an out-of-the-way village, seems like the ideal location for him to rekindle his creativity. 
Except, Sandalwood village, with its curious museum the 'Doll
House', is not as idyllic as it first appears.

There is a history to Sandalwood. There are nefarious plots and dark secrets held by the sinister souls who reside in Sandalwood. And there are dark and dangerous characters
determined to keep those secrets.

Even if his own ghosts hadn't followed him to Sandalwood, Ben discovers that he would still have been haunted by the many malevolent spirits that reside in the village beneath the shadow of the Doll House.