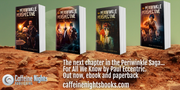 All or Nothing by Garry Bushell eBook (Digital download)
London 1966. The Swinging City, awash with youthful creativity, music and fashion, excitement and opportunity.
And beneath Soho's glittering promise lurk the shadowy men who cynically exploit it, the gangsters supplying the drugs, the women, the knocked-off booze and whatever else you need to get you through the night...if the price is right.
Men like Steve Knight an East End Mod with a small gang and a big dream.
Steve is smart enough but is he hard enough to see it through?
With the Richardsons banged up and the shadow of the law starting to fall on the Kray Twins, smaller firms are jockeying for position. And as the violence escalates, and the police start to take notice, the Knight brothers have one of their own to worry about...

In this brash, exotic, disturbing new London, only one thing is certain: not all of them will make it through alive.
All or Nothing by Garry Bushell is a thrilling novel that takes readers on a journey through London's punk rock music scene in the late 1970s. With a gripping plot and vivid characters, this book will keep you on the edge of your seat from beginning to end.