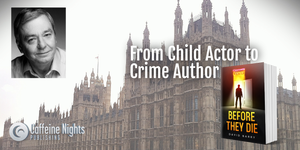 In the world of crime fiction, there are authors who not only captivate readers with their gripping stories but also possess a unique background that adds depth to their work. David Barry, born on 30th April 1943 in the picturesque town of Bangor in North Wales, is one such individual. While many may remember him as the cowardly "mummy's boy" Frankie Abbott from the beloved television series 'Please Sir!', David Barry has carved out a multifaceted career as an actor, writer, and crime author. Today, we delve into the fascinating journey of this talented individual.

From Stage to Screen: Early Years as an Actor:

As a young boy, David Barry attended Hillgrove School in Bangor and later pursued his education across the Menai Straits in Anglesey. His passion for performing arts led him to London, where he enrolled at The Corona Academy stage school in Chiswick. This esteemed institution has produced notable alumni such as Jeremy Bulloch, Richard O'Sullivan, Dennis Waterman, and Frazer Hines.

Barry's acting career began at the Theatre Royal, Windsor, where he played the role of 'Harlen' in the play 'Life With Father.' It was a promising start that laid the foundation for his future success in the entertainment industry.

The Frankie Abbott Phenomenon:

David Barry's breakout role came in the form of Frankie Abbott, one of the kids from class 5C, in the popular London Weekend Television series 'Please Sir!'. The show, which aired from 1968 to 1972, made Barry a household name. Starring alongside esteemed actors like Deryck Guyler, Joan Sanderson, and John Alderton, he brought Frankie Abbott to life, a character loved for his comedic portrayal of a cowardly "mummy's boy."

'Please Sir!' followed the escapades of a fictional South London comprehensive school called Fenn Street. With its success, a spin-off series called 'The Fenn Street Gang' was created, showcasing the post-school adventures of the beloved characters. Although the spin-off didn't achieve the same level of popularity and ended in 1973, it further solidified Barry's place in the hearts of viewers.

Diversifying Talents: Writing and Beyond:

While acting remained at the forefront of David Barry's career, he gradually transitioned into writing, a passion he had previously explored during his 'Fenn Street' days. He contributed as a writer for episodes of the series and went on to write for the 80s sitcom 'Keep It In The Family'.

In addition to his television work, Barry wrote scripts for public and private sector organizations, focusing on thought-provoking topics such as workplace bullying, race, sexual orientation, and disability. This endeavor showcased his versatility as a writer and his commitment to addressing important social issues.

The Crime Author Emerges:

In 2002, David Barry unveiled a new dimension of his creativity with the publication of his first novel, 'Each Man Kills.' This police comedy thriller, published by Gomer Press, delves into the gritty world of crime while infusing humor into the narrative. Barry's skillful storytelling and knack for weaving suspenseful plots earned him recognition as a talented crime author.

Expanding his literary repertoire, Barry created and wrote the first weekly UK internet soap opera, 'Careless Talk,' set in the charming town of Tunbridge Wells. Blending fact and fiction, the series featured real-life characters making cameo appearances and authentic locations, adding an intriguing layer to the narrative.
A Candid Reflection: Autobiography and Legacy:
In 2006, David Barry released his autobiography, 'Flashback - An Actor's Life.' In this compelling memoir, he shares candid anecdotes about his experiences as a child actor, recounting encounters with esteemed figures like Sir Laurence Olivier and Vivien Leigh during a prestigious post-war theater tour. From the challenges of live television to the company of hard-drinking actors, Barry's autobiography offers readers an intimate glimpse into the world of entertainment.

David Barry's journey from a child actor to a crime author exemplifies the power of artistic versatility and creative evolution. From his early days at The Corona Academy to the beloved character of Frankie Abbott, Barry's talent captivated audiences on screen. With his transition to writing, he proved his mettle as a skilled storyteller, addressing important social issues while entertaining readers with his crime novels.
In addition to his impressive body of work, David Barry has once again proven his storytelling prowess with the release of his latest political thriller, "Before They Die." With his unique blend of suspense, intrigue, and thought-provoking social commentary, Barry takes readers on an exhilarating journey through the corridors of power and the dark secrets that lie beneath. As we eagerly delve into the pages of this gripping novel, we are reminded once more of the depth of David Barry's talent and his ability to keep us on the edge of our seats until the very last word. "Before They Die" is yet another shining example of why this multi-talented artist remains a formidable force in the world of crime fiction and beyond.

As we reflect on David Barry's multifaceted career, we recognize the impact he has made both on and off the screen. His contributions to the world of entertainment, his thought-provoking writing, and his candid autobiography stand as a testament to his enduring legacy. With each new endeavor, David Barry continues to captivate audiences, showcasing his remarkable talent and leaving an indelible mark on the world of crime fiction.