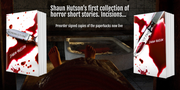 The Magister Curiosity by Colin Edmonds
In the Steampunk realm of 1919 in Her Majesty's Royal States of America, a sabotage explosion hurls two renowned scientists through the Nexus veil which divides our worlds.

Just off Wall Street, in 2001, a destructive force flings a young street magician back in time.
All three recover to find themselves in New York City. But in 1889.  
With Nikola Tesla's assistance, Professor Artemus More, Dr Manswick 'Wicko' Smawl and Michael Magister must try to figure out how they can possibly return to their own times and homes, while trying to escape the clutches of some of the most famous figures of the era: businessman Thomas A. Edison, leading lady Lillian Russell, the World's Greatest Showman Phineas T. Barnum, oh, and a murderous gang hired by the fabulously wealthy 'Diamond Jim' Brady.
Time is not on their side. But when was it ever?
The Magister Curiosity
from the memoirs and recollections of
Professor Artemus More
is a 
Steam, Smoke & Mirrors 
origin story