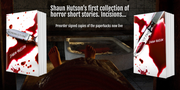 Russian Roulette - Keith Nixon
A reluctant investigator, a sordid English seaside town, a criminal underbelly.
Trouble has a habit of seeking out Konstantin, whether he wants it or not. Starting from the moment he arrives in the seedy seaside town of Margate where he's supposed to be in hiding from his ex-employers.
All Konstantin wants is to keep his head down and be left alone. But it's not to be. People have their problems and Konstantin can't help but get involved. Konstantin has to overcome the drug dealer, the loan shark and a Liverpudlian gangster. Then there's the so-called good guys, the councilors and lawyers who are worse than the criminals. Enter Fidelity Brown, aka Plastic Fantastic, a dominatrix who has her own mélange of secrets and lies, and nightclub owner Ken who's connected to all the wrong people. Both help Konstantin solve the cases dropped on his doorstep.
Cue deception, murder, mayhem as the Russian settles into his new life. Margate will never be the same again. And neither will Konstantin