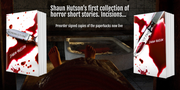 Reprobates by RC Bridgestock
After a burglary at the mortuary, the body of 30-year-old Kirsty Gallagher goes missing--but the body that searchers find belongs to someone else.
The Harrowfield mortuary has been robbed, and Kirsty Gallagher's body disappears.

Nearby, uniformed police are searching the canal along with a small diving squad, following the discovery of some clothes by the bank side. The body of a naked man is hoisted from the murky depths. His ankles are tied by a piece of rope connected to concrete. Kirsty's decomposing corpse is eventually found and an arrest is made which leads to a network of men whom D.I. Dylan can only describe as... Reprobates.