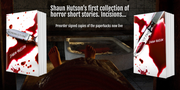 I'm Dead Again - Keith Nixon
Corporate corruption, a burning vengeance and a man who's died twice. This could be Konstantin's strangest investigation yet…
When the corpse of an old friend turns up in dubious circumstances Konstantin Boryakov is drawn into another investigation he doesn't really want. With stone cold killer, Mr. Lamb in tow Konstantin discovers all roads lead to two disgraced people – businessman, Gordon Dredge and ex-reporter, David Brodie..
David Brodie was once (literally) an ace investigative reporter, until a scandal brought him down. He lost his job, family and reputation. Worse, he ended up living in Margate. His life has no meaning, until he receives a call – from a dead man. Brodie learns he was framed by the last person he was investigating … Gordon Dredge.
But, Dredge has his troubles. He's in debt to a local gangland boss. Everything Dredge once owned, all his trappings of success are gone. But that's not enough for the boss. He wants more than Dredge is able to give. Just when things can't seem to get any worse someone from Konstantin's past appears, someone Konstantin has sworn to kill...
In a deadly tale of greed, loss and revenge will Konstantin survive?