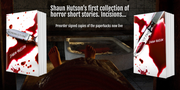 Glory Boys 2 - Days of Change
It's time for action once again in a modern world where the thrills, pills and rucks never seem to stop.
Eight months after the brutal 1979 August Bank holiday clashes in Southend, Chris Davis and his sharp-dressed Modernist pals face a new set of enemies. There are vicious soul-boys, hostile punks and a violent gang of older, tooled-up greasers.
On top of that Chris has to deal with an unsympathetic boss, a broken heart and his friend Dave coming out of chokey with enough chips on his shoulder to feed Bad Manners. There are as many new opportunities as there are problems, including a beguiling Modette and her intimidating East End clan.