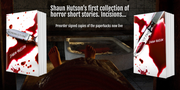 Coming, Ready or Not by Michael Fowler
DS Hunter Kerr has always been riddled with guilt over the vicious and brutal death of his first girlfriend Polly Hayes. That fateful day has haunted him for a lifetime and was the reason why he joined the Police – to make amends and track down her killer. 
Yet none of the murders he has investigated have remotely resembled the killing of Polly, so when a woman's brutally battered body is discovered wearing an item of his girlfriend's clothing his life is suddenly turned upside down. 
Is it a cruel trick, or has Polly's killer returned to haunt Barnwell.