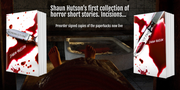 Blind Chance by Pat O'Keeffe
Ex-croupier Kate Redmond is barely out of prison when the past catches up with her. Sean Malone, head of an East End crime dynasty, has gone missing in Amsterdam and his son, Michael, has been found in the Amstel River with half his head blown away.
Kate has history with the Malones; she took them for some serious money before she went down and now it's payback time. Tom Malone, the eldest son, wants Kate to go to Amsterdam and find Sean or her crippled partner, Kenny, will go through seven levels of hell. By nature, Kate is an intelligent and complex risk-taker whose choice of men hasn't always been the best, but Kenny was different; she cannot abandon him. Amsterdam proves a nightmare world of assassination, cross and double-cross and Kate learns fast that there are no rules or limits.
With events spiralling out of control, she is forced into an alliance with the most dangerous man in Amsterdam, Jan De Klerk and now it will take every ounce of her wit and nerve if both Kenny and she are to survive.
Violence, latent eroticism, drugs and sleight-of-hand are the key markers in this fast moving thriller.