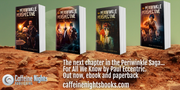 Death Run - Harry Dunn
Death Run by Harry Dunn
THE OPIOID CRISIS. Harry Dunn's explosive new thriller, Death Run, enters the nightmare world of drug trafficking as P.I, Jack Barclay risks everything to stop the rising death toll from the opioid, fentanyl.
 The gripping new thriller from Caffeine Nights. Available in paperback.
When Eva Long walks into Private Investigator Jack Barclay's office, he thinks it's just another job. But once he starts delving into the suspicious death of Eva's twin, Susan, he finds himself embroiled in the dark world of drug trafficking.
After travelling to Spain, Jack and Eva begin to uncover the secrets of Susan's life there. Secrets that others will stop at nothing to keep hidden.
The stakes quickly escalate when Jack discovers the case is linked to a recent spate of deaths back in London from the opioid, fentanyl. Racing to stop the rising death toll, Jack puts his own life on the line as brutal mob boss 'Rico' fights to protect his trade.