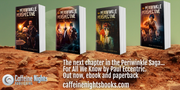 The Dead Can't Talk - Brit Grit from Nick Quantrill
A City Can't Keep It's Secrets Forever

How far will Anna Stone, a disillusioned police officer on the brink of leaving her job, go to uncover the truth about her sister's disappearance?
Approached by Luke Carver, an ex-Army drifter she's previously sent to prison, he claims to have information which will help her.
As the trail leads from Hull and the Humber's desperate and downtrodden to its great and good, an unsolved murder twenty-five years ago places their lives in danger, leaving Stone to decide if she can really trust a man who has his own reasons for helping.