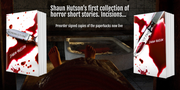 Renegades - Shaun Hutson
Renegades Book by Shaun Hutson
As a member of the Counter Terrorist Unit, Sean Doyle thought he'd seen it all. 
Every violent act, every depraved action man could perpetrate against man but he is to discover that there are much worse things in this world than even he has encountered.
Tracking a group of renegade terrorists from London to the Republic of Ireland, Doyle and his partner must discover who is funding these men and why. What he discovers is beyond even his experience and threatens not just his life but his sanity too. 
The trail of terror leads not just across Britain but to France as well where the monstrous deeds of a murderer who died four hundred years earlier still cast a dark and horrific shadow.  
In the grisly frames of a stained glass window taken from the home of this vile killer lay the secret sought by so many for so long.  The secret of immortality.  And one man will stop at nothing to get it.  
Sean Doyle is about to meet that man. Modern terrorism meets Medieval madness in a jaw-dropping climax that will make the living envy the dead... 
"Britain's greatest living horror author." — Dark Side
"An expert in the art of keeping the reader turning the pages." — Time Out
"Hutson writes grippingly." — SFX Magazine
"The one that writes what others only dare imagine." - SUNDAY TIMES