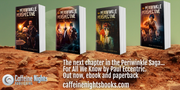 Incisions: Cut Two by Shaun Hutson - eBook
"He was halfway up the stairs when he heard the banging on his front door.  John froze for a second, wondering who would be knocking his door at this late hour.  He turned and headed slowly down the stairs, moving right up to the front door, straining his ears to see if he could detect any sounds from beyond the partition. He was inches from it when there was more banging.
John jumped back, his heart thudding harder now. He saw that the chain was on but he hesitated as he reached for the handle, finally opening the door a crack.
There was no one on the doorstep.  He opened it a little further and peered out into the night, only the streetlamps offering any illumination.
          John was about to duck back inside the house when something loomed at him from the side of the porch…..
More stories to haunt your dreams are presented here within these pages.  Tales of a neighbour with a terrible fear.  Of an artist who uses the most unusual objects to make his craft come alive.  Stories about strange beliefs and a desperate desire to know that there is something beyond death.  A couple lost in a forest discover what they think is salvation from their plight but much more besides.  Is a baby monitor as innocent as it appears?  What if it picks up more than the sound of a child?  A hitman hired to kill a recluse discovers that this is one deal he really shouldn't have taken on.  A woman afraid of Witchcraft finds she has good reason to fear a new arrival in her village.
These are just some of the stories within this volume.  Stories of revenge, terror, the unknown, creatures beyond belief.  Stories that will make you think, make you shudder but, above all, make you want to leave the light on when you're reading them….