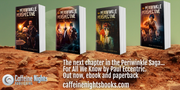 Harder Than The Rest - Garry Bushell with Craig Brackenridge
WHAT IF THE KRAYS HAD PLAYED GUITARS?
When an undercover cop is brutally murdered by ruthless criminals, only a fool or a hero would try and infiltrate the gang again.
Harry Tyler is no fool.
But the fast-talking detective quickly realises he is up against his smartest, and deadliest opponents. The Bishop brothers are young East End villains who use their hard rock band Iron Hammer as a front for robbery, drug-running and much worse.
With stardom looming, a rising body count and unexplained links to violent political activists, the clock is ticking – and, for Harry, the stakes have never been higher.