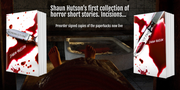 When The Waters Recede - DI Harry Evans
When a car is pulled from raging floodwaters with a dead man in the front and the decapitated body of an evil woman in the boot, Cumbria's Major Crimes Team are handed the investigation.
The woman is soon recognised, but the man cannot be identified and this leads the team and their former leader, Harry Evans, into areas none of them want to visit.
Before they know it, they're dealing with protection scams and looking for answers to questions they didn't know needed to be asked.