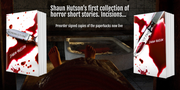 LOMAX - The Tip of the Iceberg - Roger Allan Newbury
Two captives escape their cells after being kidnapped and embark upon a frantic chase through the capital's streets, causing chaos and carnage, pursued by the company's security.
A female executive, Amanda Waterman, dies in suspicious circumstances at the same location at Canary Wharf. One man knows why and how she died: the secretive CEO of a mysterious drug company, who is hell bent on making trouble for DCI Philip Lomax, leading officer of the Serious Murder Enquiry Team.
Compounding the case is Lomax's history with the now deceased, Amanda. Lomax follows his instincts, which brings him into direct conflict with his team, and his superiors.
As he begins to piece together the case, Lomax finds himself the object of a deliberate ploy, teasing and testing him to the maximum, before he too is abducted.
As evidence comes to light, Lomax is convinced the case is connected to the death of both his father and brother. Yet still the bodies mount up. Lomax soon realises he has a serious and deadly opponent, who'll stop at nothing to destroy him and everyone he loves…and he knows he simply cannot fail.