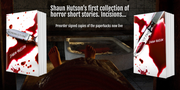 Bedlam - B.A. Morton - Dark suspense
If you lost the love of your life, how far would you go to get them back?


Joe loves Kit. Everyone thinks she's dead. Joe knows she's not. Detective Joe McNeil would do absolutely anything. When Joe breathes life into a crime scene victim, he discovers what anything really means. Nell will use whatever is necessary to ensure she survives, including Joe. Is she really a victim, or merely the weapon being wielded by a much more cunning foe? Against the background of a multiple murder investigation, Joe struggles between his love for missing Kit and his growing obsession with the enigmatic Nell. Plunged headlong into a spiralling nightmare of kidnap, murder, and betrayal, his relentless search for the truth jeopardises his career, his sanity, and his life. But for Nell, the risk is even greater. A haunting tale of obsessive love, ultimate sacrifice, and deadly consequences.