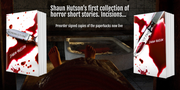 Wings of a Sparrow - Dougie Brimson
 Wings of a Sparrow Book By Dougie Brimson
Rob Cooper, self-confessed football fanatic and editor of the United FC fanzine, Wings Of A Sparrow, returns from watching his team succumb to yet another defeat to discover that not only has he inherited an estate worth in excess of six million pounds, but that it has been left to him by an uncle he never knew he had.


However, even as Rob is struggling to come to terms with these two bombshells, he is hit with another. For the estate contains ownership of an almost bankrupt professional football club. And the terms of the will are such that Rob will only receive his inheritance if he takes over the running of the club and manages to keep them going for the coming season. The problem is, the club concerned are the local and very bitter rivals of the club Rob and his family have passionately supported all their lives.

But after wrestling with his conscience, and driven by his wife's desire for instant wealth, he accepts the challenge with a promise to the United faithful that he will do whatever he can to ensure that whilst his new club might survive, its supporters are about to experience the most depressing season in their history!

And so, in the full glare of the media spotlight, he sets out to do what most football fans could only ever dream about; humiliate their local rivals.

The trouble is, it just doesn't work out like that!