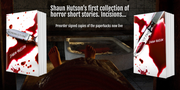 The Nostradamus Curiosity - Colin Edmonds
The Nostradamus Curiosity Book By Colin Edmonds
Michael Magister is back from the dead and Phoebe Le Breton has never been more alive, both are planning on a brighter, quieter future.

But with the Special Branch hot on their trail and the Black Bishop dispatching his most brutal assassins, Michael and Phoebe's world is about to be tragically ripped apart.
Only a mild-mannered medium and her spirit guide, Nostradamus, know for certain what life will bring – or take away. And when two astronomers are found dead at the
Royal Observatory, Greenwich...are the causes natural...or Supernatural?
Scotland Yard's Head of the Special Branch, Superintendent William Melville, needs once again to 'send for the magicians' – but has their time run out?
The Nostradamus Curiosity is the third Steam, Smoke & Mirrors murder mystery featuring the slick, wise-cracking, crime-solving Steampunk Music Hall illusionists Michael Magister and Phoebe Le Breton, and threatens to be their most terrifying, nail-biting adventure yet.
But will it be their last?
The clock is ticking...but is time going forwards…..or backwards!