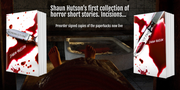 Progeny - Paperback horror by horror legend, Shaun Hutson
Can you imagine what it would be like not to have any memory of your first ten years of life?

Jake Porter knows how that feels.  He's a successful psychiatrist and writer.  He has an apparently adoring lover and the respect of his peers.  But he also has a huge gap where his childhood memories should be.  What's more, Jake is tormented by the worst kind of nightmares.  Nightmares he's not even sure are his.
Tormented by dreams and visions that threaten his sanity, he must find their source in order to understand and banish them.
His hunt will take him to a run-down seaside town, to the place where he was raised and also forty years back in time, to what he must confront to release himself from the grip of the visions and also to discover the hidden memories.
However, he will discover things about himself he did not dare imagine.  Things he really didn't want to know.
And he will also discover that not everyone is what they appear to be.  Those revelations will expose a darkness and horror that no one should have to confront.
Sometimes a lie is preferable.
Some truth is best left undiscovered.