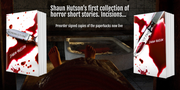 Dark Country - Darren E Laws
Dark Country By Darren E Laws -
Songs of Love and Murder...

Three related famous country and western singers are kidnapped over a period of 50 years. Only one body has ever been found.
Battling a debilitating illness, FBI agent Georgina O'Neil joins forces with newly licensed private investigator, Leroy La Portiere to find Susan Dark, the latest in the Dark family to go missing as she is on the verge of national stardom. But Georgina's search for the truth is hampered by an illness which is affecting her judgement. Is there one perpetrator or is this a series of elaborate copycat crimes?
The hunt to find Susan leads them deep into a densely forested area as they follow a bloody trail and a deadly cat and mouse pursuit that will have fatal consequences for all.