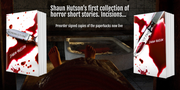 The Periwinkle Perspective - Volume Two- Those Among Us by Paul Eccentric
January 1898… Step forward Space Captain Gordon Periwinkle: Adventurer; raconteur and amateur taxidermist, and the man who; six months ago, became the first to walk upon the Moon.
...Or did he?
There are those who claim that Queen Victoria's greatest achievement was nothing more than an elaborate hoax, perpetrated by the overseer of a previously ailing Empire in order to gain dominance over those who sought to usurp her.
Either way, Gordon's going 'back', though this time with none of the pomp and ceremony that surrounded his original mission. For this is a secret mission; a mission to discover whether or not there is in fact an alien base, hidden on the satellite's dark side, and also to find out quite what became of his brother, who was sent skyward in a fit of pique by the Inventor Royal, Professor Hamble Blaise, after she discovered that she had been sleeping with Jack-the bleedin'-Ripper!
Add to this the news that scientists from all over Europe have been going missing; that the Queen is in need of a new pair of legs, and the possibility that not everyone on Earth is entirely who they claim to be, and you have all the ingredients for the second volume of The Periwinkle Perspective...
Reviews of 'The Periwinkle Perspective' Volume One 'The Giant Step'
'Jam-packed full of stylishly written japes and characters. Is there a Steampunk trope that has been missed out? I would very much doubt it. I would very much love to read more of these. Please write a sequel! '- Donna L. Scott- Editor of Best of British Science Fiction 2016 - 2020
'Both engaging and intriguing in equal measure. I found the book a positive hoot and total delight from start to end! The brilliantly realised narrative has an eccentrically measured pace that keeps one wanting to find out more!', I look forward to Vol 2! - Terry Molloy, Doctor Who's 'Davros', 1984 to present day.
The Periwinkle Perspective takes the reader into a gloriously cinematic steampunk world. Like a wonderful mix of Jules Verne, Conan Doyle and the League of Gentlemen, the characters and their adventures come charging off the page. I would love to see them make it to the big (or small screen) - Pete Rowe Director of photography - Friday Night Dinners, Not Going Out, Zapped and The Mighty Boosh