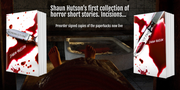 The Fix - Keith Nixon
Murder. Theft. Sociopaths. And Margate. Just another day in banking then...
It's pre-crash 2007 and financial investment banker Josh Dedman's life is unravelling fast. He's fired after £20 million goes missing from the bank. His long-time girlfriend has cheats on him, then dumps him. His only friends are a Russian tramp who claims to be ex-KGB and a really irritating bloke he's just met on the train. His waking hours are a nightmare and his dreams are haunted by a mystery blonde. And to cap it all, he lives in Margate.
Just when Josh thinks things can't get any worse his sociopathic boss — Hershey Valentine — winds up dead and he finds himself the number one suspect.
As the net closes in Josh discovers that no one is quite what they seem, including him, and that sometimes help comes from the most unlikely sources... Part fiction, part lies (well, it is about banking) and excruciatingly funny, The Fix pulls no punches when revealing the naked truth of a man living a life he loathes.