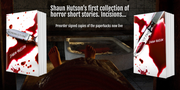 Forever Evil - Harry Dunn
Forever Evil Book by Harry Dunn - Crime Fiction 
London Private Investigator Jack Barclay is hired by Phillip Jordan to find his missing son Alex, who has recently been released from prison.
Alex has been recruited by Jaymar -  an international gang of hit men -  and Jack finds himself embroiled in the murky world of vengeance, murder and erotic photography as he trawls the underbelly of London to find him.
Alex's father has his own agenda for wanting his son found quickly and as he puts pressure on Jack to find him, Jaymar attack Jack's girlfriend. As the mob turn up the heat, Jack realises it is only a matter of time before the brutal trail of murder and violence reaches his own door.