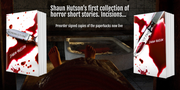 Dead Already - Haunting crime fiction from one of the UK's best crime writers
What if someone you accidentally killed came back to haunt you?
When the perfect crime results in the kidnap and murder of Megan, his only child, East End villain Mickey Speight is grief stricken.
But now, nearly thirty years later, Megan sends a message to her father, gone-to-ground in present-day Margate.
As the messages from his dead daughter keep coming, Mickey teams up with a young American female therapist to discover whether this really is a voice from beyond the grave, or if somebody has loomed out of Mickey's past wanting revenge. Someone
is fingering Mickey's collar and Mickey doesn't like it.
Mickey realises that he must haunt the old East End boozers, betting shops and strip clubs of his youth if he's to find out what really happened to his daughter.
DEAD ALREADY is a psychological thriller that splices the ever-popular East End gangster genre with a ghost story; a cross between revenge thriller YOU WERE NEVER REALLY HERE and supernatural horror DON'T LOOK NOW.