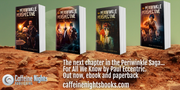 Before They Die - David Barry
In 2006, an MP hoping to open an inquiry into a Westminster ring of paedophiles is murdered, and the original 1980s document which he has on a USB flash drive is stolen. In 2014, extracts of this document are sent to a publisher from an anonymous source, someone hoping to make a fast buck from the sale of the dossier.
The publisher is married to Malcolm Reeves, an MP who is trying to reopen the inquiry into child abuse by Establishment figures. Attempting to discover who has the dossier, the publisher hires Mike Halliday, a private investigator and ex-detective inspector from Scotland Yard's Counter Terrorism Command.
At first, Halliday thinks of it as a straightforward case, but before long he finds himself on the trail of a hired killer whose identity is unknown, and who may have worked as an undercover detective, and whom Halliday suspects of working for the security services. Soon he finds himself plunged into a nightmare world controlled by powerful people who will stop at nothing to cover up these appalling crimes.